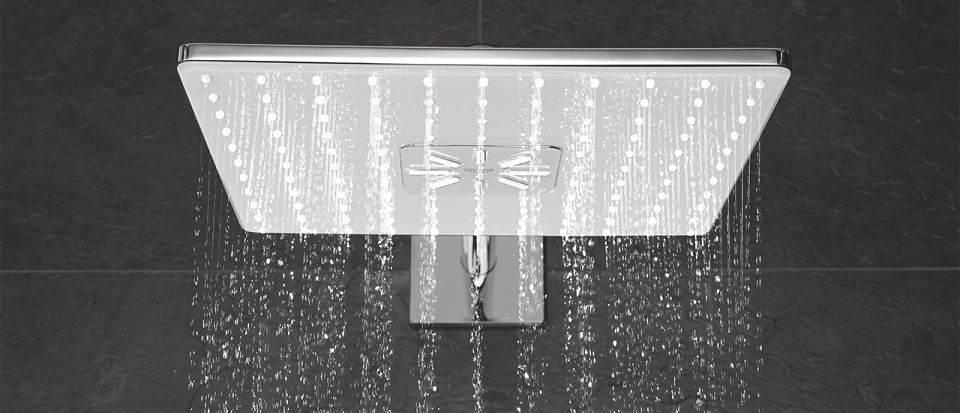 THE HIDDEN ADVANTAGES OF CONCEALED TECHNOLOGY
Space is a valuable commodity and often in short supply. Concealed installations offer more space under the shower without compromising on functionality or comfort. They also offer additional benefits of a practical kind: cleaning it becomes faster and more convenient. Concealed technology: more in it for you.
With its universal solutions, our GROHE Rapido SmartBox System is the answer for everything. Never before has a rough-in from GROHE offered so many different options and so much flexibility and freedom. And with the GROHE Rapido SmartBox System you can install the box now and decide on a trim in the future.
PURE MINIMALISM: GROHTHERM SMARTCONTROL & RAINSHOWER 310 SMARTACTIVE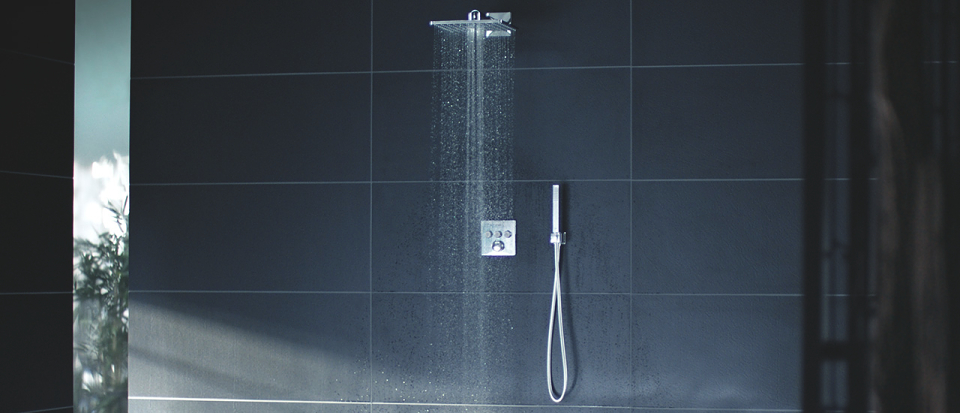 When you have the luxury of planning your shower from scratch, Grohtherm SmartControl in combination with the Rainshower SmartActive 310 is a wonderful option. With its concealed installation and exceedingly slim design, Grohtherm SmartControl offers more space under the shower and an uncluttered, clean look. It also offers additional benefits of a practical kind: cleaning it is faster and more convenient. With the Rainshower SmartActive 310 showering becomes a pleasure to look forward to every day, thanks to the generous proportions of the showerhead plus two different shower patterns that allow you to choose between a soft and soothing GROHE PureRain spray and the new stimulating GROHE ActiveRain - or a combination of both.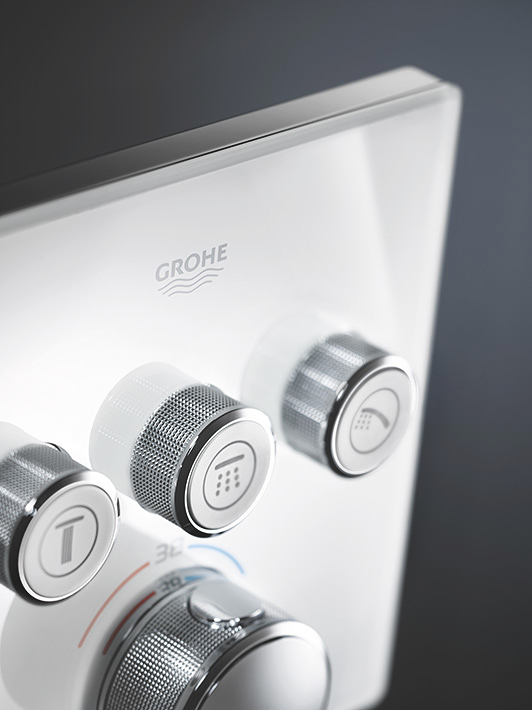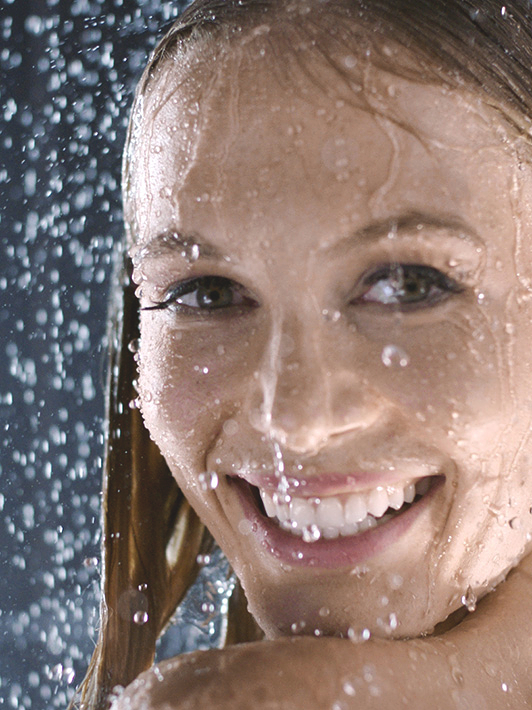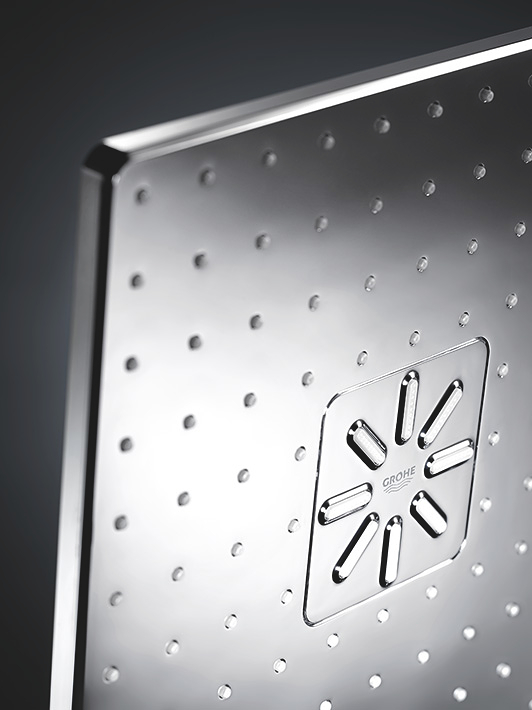 THE PERFECT FINISH FOR EVERY SHAPE FROM ROUND TO SQUARE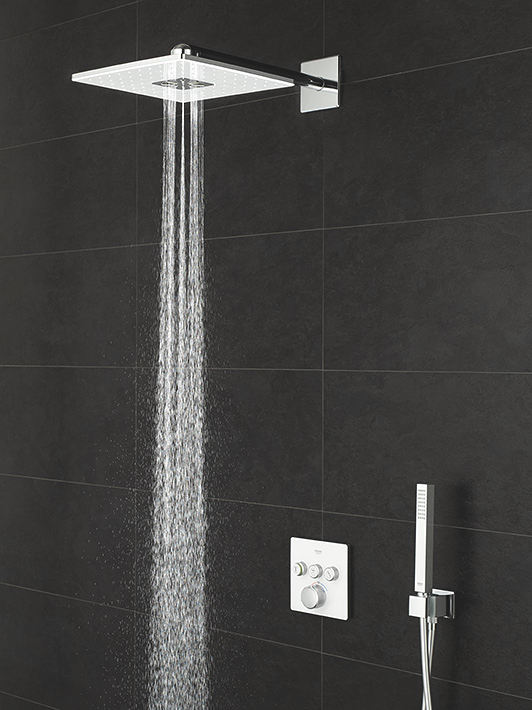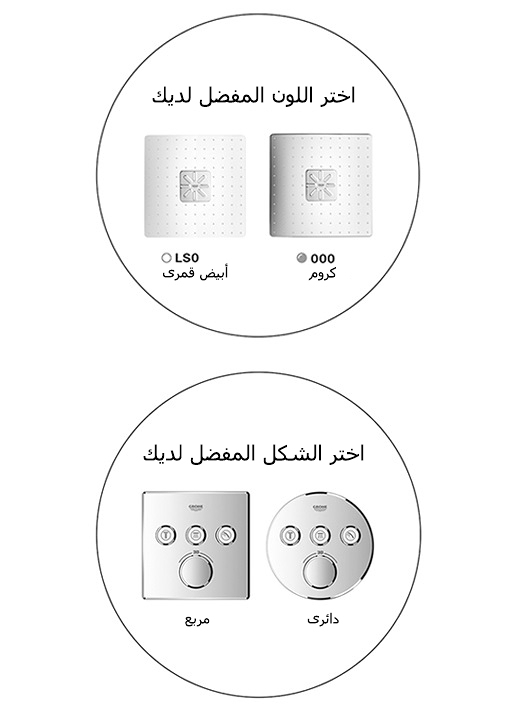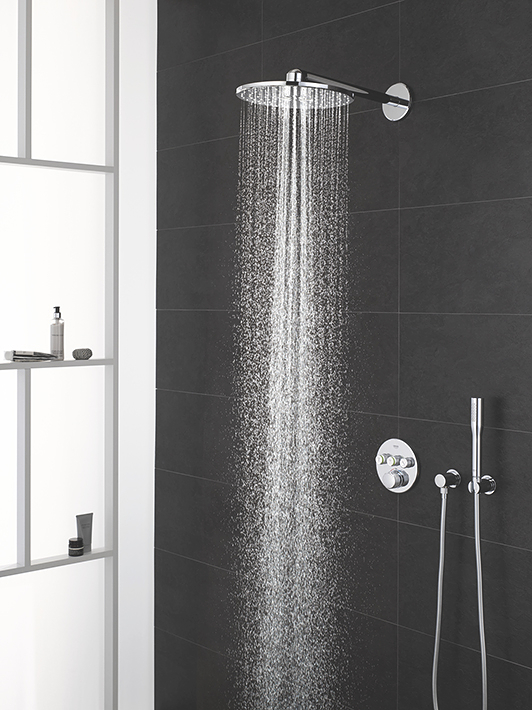 RINSE AWAY SHAMPOO RINSE AWAY STRESS
Choose between a gentle summer rain and a downpour - at the touch of a button. The central GROHE ActiveRain spray delivers a powerful spray pattern that rinses away every trace of shampoo, quickly and effectively, and stimulates your scalp for a tingling clean sensation. Or switch to the GROHE PureRain spray and relax under a soft, refreshing rain shower.
The design of Grohtherm SmartControl goes far beyond just functional Its slim and streamlined look fits beautifully in every bathroom. The 10 mm thin wall plates make the Grohtherm SmartControl trim sets both elegant and space-saving.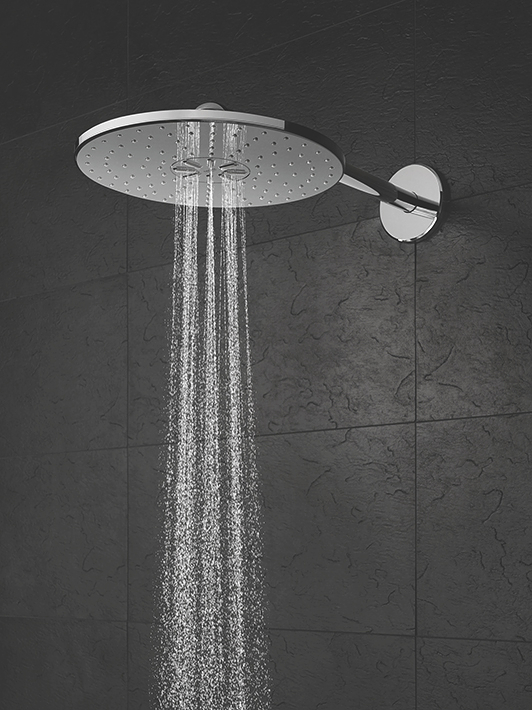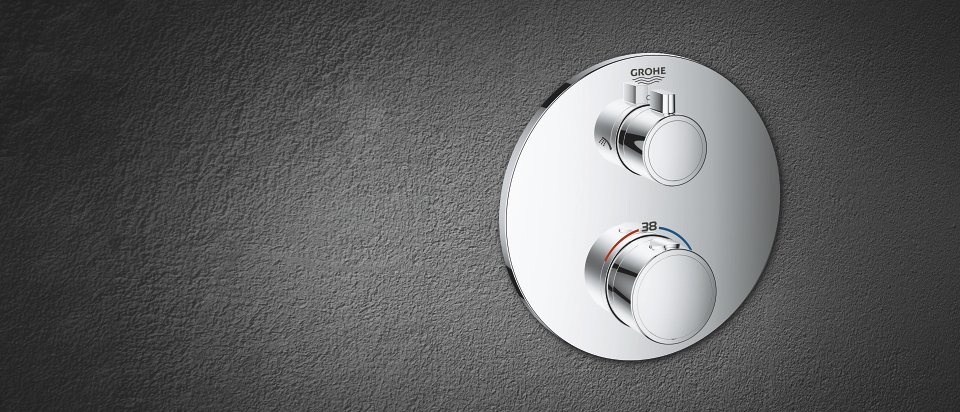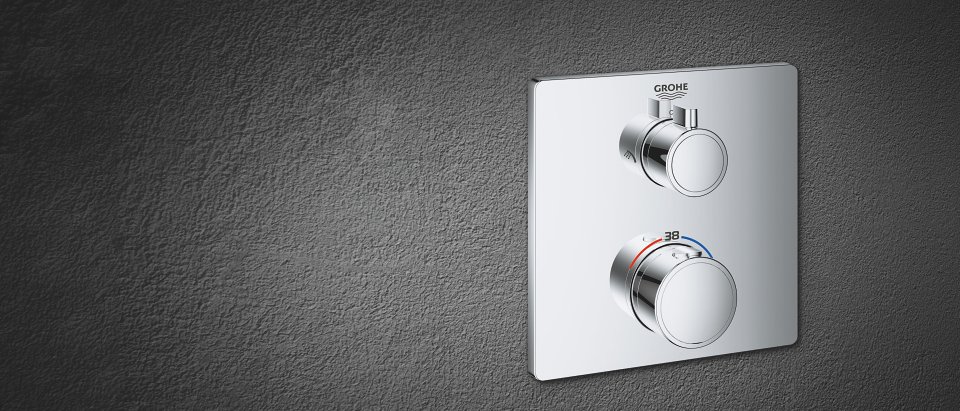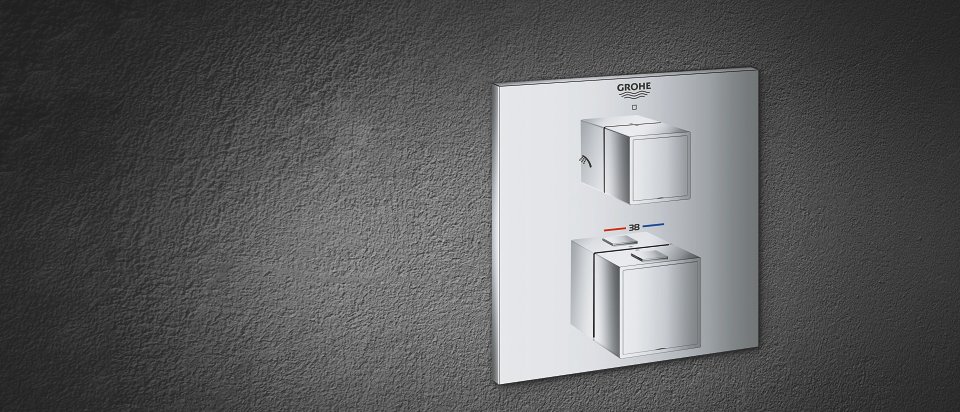 OUR TWO-HANDLE THERMOSTATS: YOU'LL WARM TO THEM IMMEDIATELY
Designed and engineered for more comfort, convenience and space, our two-handle thermostats look deceptively simple. The exceedingly narrow plates, with a width of just 10 mm, and the slim design of the controls ensure that the overall outreach is a mere 43 mm. All our two-handle thermostats offer this combination of good looks and extra space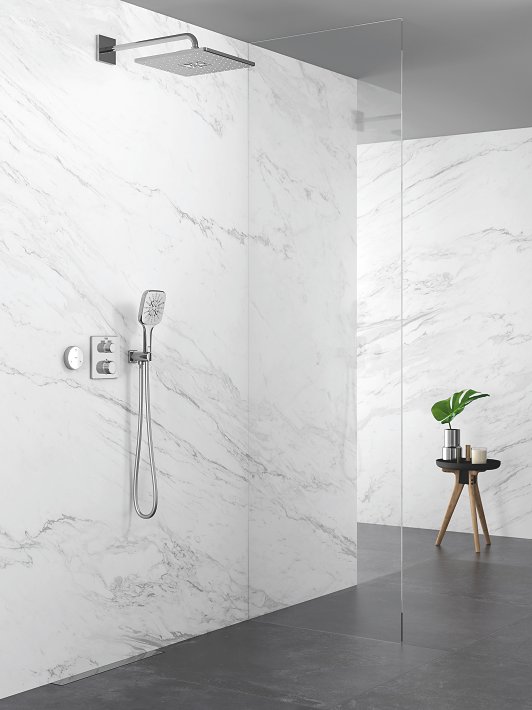 SWITCHING SPRAYS? YOU CAN DO IT WITH YOUR EYES SHUT
Our new thermostats with conventional operation are designed to be as user-friendly and intuitive as possible.
Turn on the hand shower by rotating the upper control button slightly to the left. To increase the water flow and obtain a more powerful spray, simply keep turning the button further to the left. And to switch over to the head shower head, turn the control button towards the right. Continue turning to the right to turn up the volume. Also available as 1-function model to operate a single shower or 2-function model for shower and bath fill operation.
Discover Rainshower SmartControl 360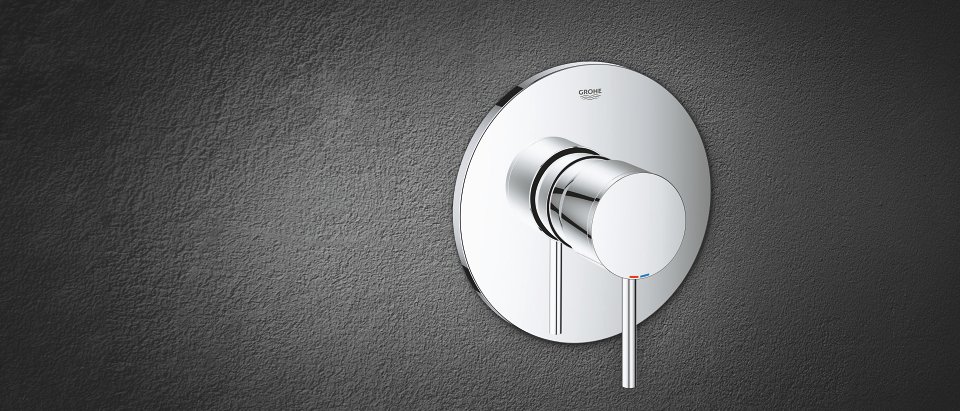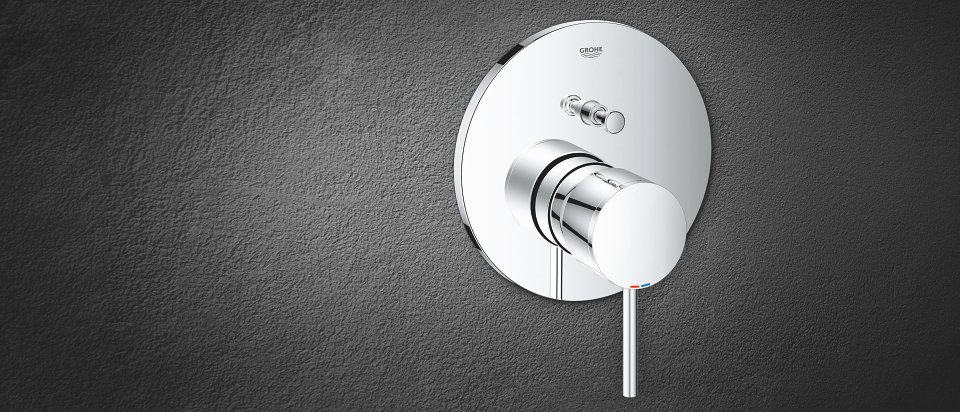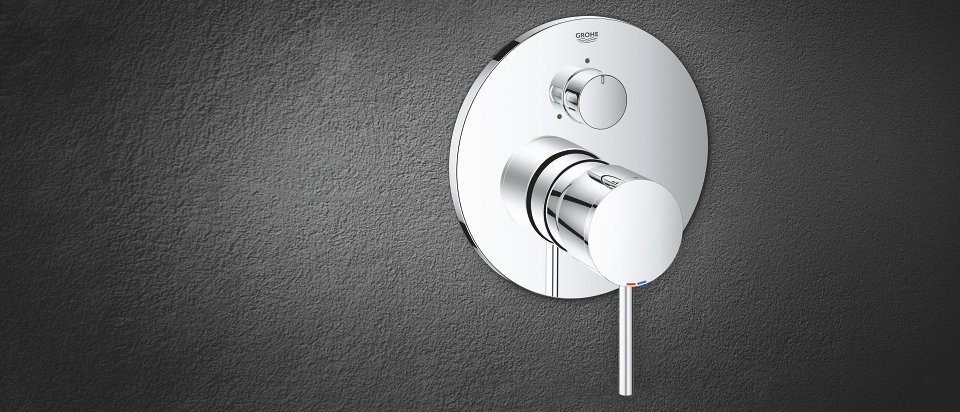 SMOOTH OPERATOR: OUR SINGLE-LEVER MIXERS
Our single-lever mixers perform outstandingly, offering comfortable and intuitive control. GROHE single lever mixers are designed for functionality and for stylish streamlined looks: the plates themselves are a mere 10 mm thin. And the automatic two-way diverter has an outreach of only 43 mm, independent of rough-in installation depth.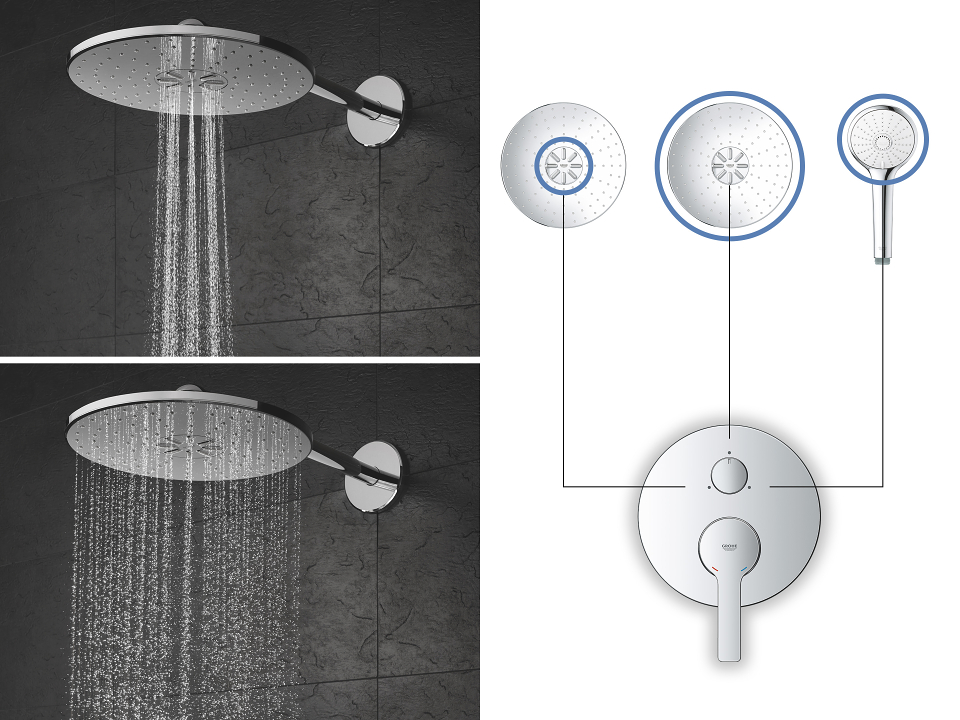 OUR MIXER WITH 3-WAY DIVERTER – JUST HAVE IT YOUR WAY
Beautiful and streamlined design provides the setting for our single hand mixers. But the three-way diverter stands out for sheer elegance of function*. The top handle has three positions. Rotating it allows you to choose, for example, between a powerful jet spray, a relaxing rain shower and a hand shower. Or between a head shower, a hand shower and a bath filler. The bottom handle offers comfortable temperature control – turn to the left for warm, to the right for cold – whilst raising the handle controls the volume of water.
Discover Rainshower SmartControl 360