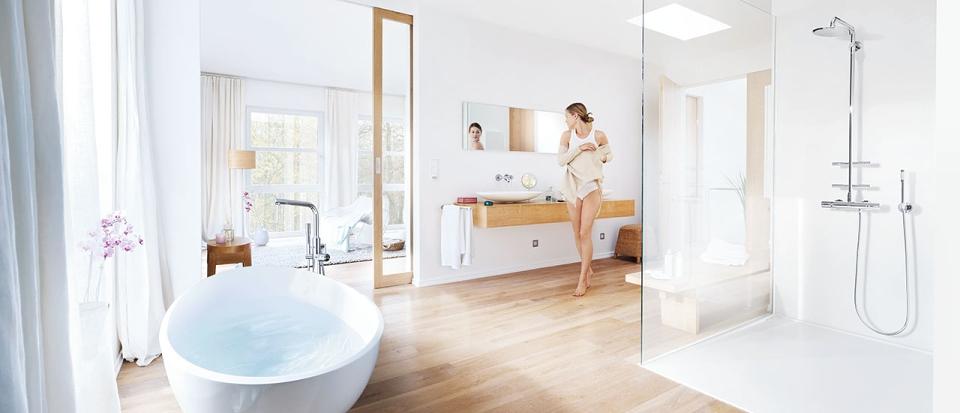 Choose a GROHE shower system for your bathroom and experience a new level of showering enjoyment.
Featuring a hand shower and a head shower, our shower systems are easy to install and benefit from an impressive array of GROHE technologies. Our shower systems are available in a wide choice of designs to complement all styles of interior and match all budgets.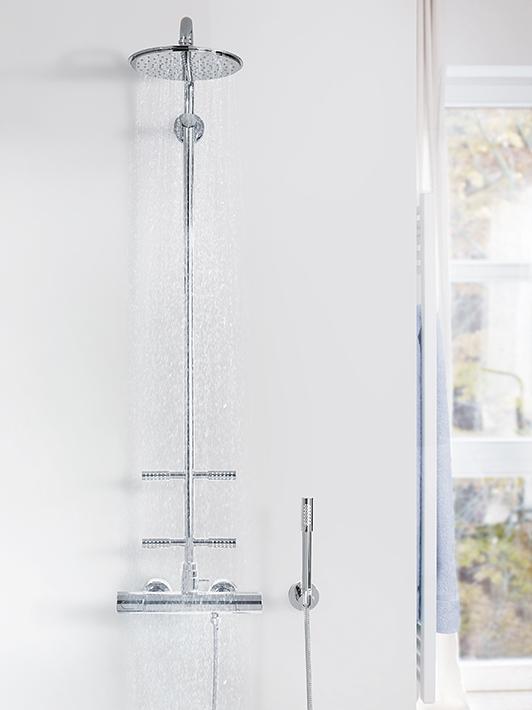 The complete Showering Solution
Systems feature either a thermostatic shower mixer or a diverter valve – to match the requirements of your project:
All shower systems are externally mounted: ideal for a quick bathroom renovation project.
GROHE DreamSpray® technology ensures balanced water distribution to every shower nozzle.
All designs are finished in GROHE StarLight® chrome for an immaculate shine.
SpeedClean nozzles on both shower heads prevent the build-up of limescale.
A choice of shower arm lengths ensures maximum showering comfort.
For an enhanced hydrotherapy experience, choose a Rainshower® System with body sprays.
Rainshower System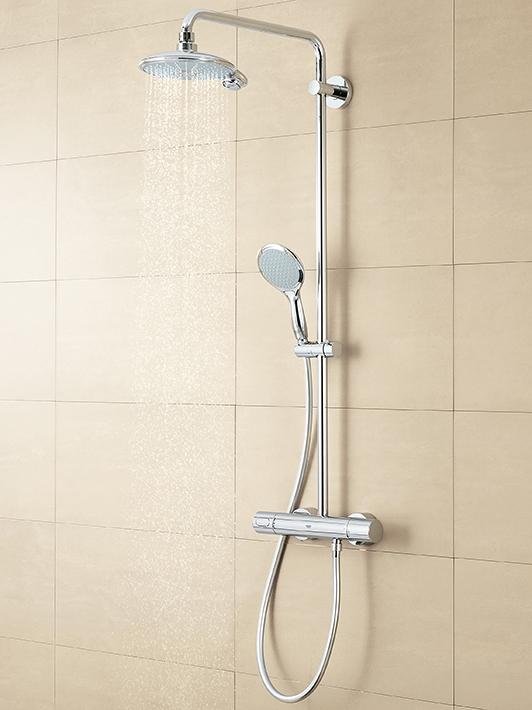 Shower Systems with a Diverter Valve
Replace your current hand-held shower with a GROHE shower system with diverter valve and revolutionize your daily shower. Shower systems with a diverter are designed for use with an independent shower mixer tap or thermostatic shower mixer – perfect if you want to improve your showering experience without the cost and disruption of a complete bathroom re-design.
Installing a diverter system is simple and best of all, anyone can do it themselves.

Unscrew your old hand shower and shower hose from the water outlet
Remove the shower rail, or shower holder, if there is one
Fix the shower system to the wall – it only takes two screws
Connect the hose from the system to the water outlet
Recommended product ranges