A designer shower set that is perfect for upgrades at an amazing price – made in Germany by GROHE!
The New Tempesta 210 FLEX shower system with diverter adds instant designer style and premium performance to any bathroom. Featuring flexible installation and easy connection it is compatible to the valves in your existing shower or bath so you can upgrade in no time. The system is also packed with GROHE's cutting edge technology. GROHE DreamSpray ensures the flow of water from every nozzle is even – perfect for the New Tempesta 210mm head shower's and 100mm hand shower's soothing Rain spray which washes away tension and stress. A simple turn of the diverter activates the head shower's eco-friendly SmartRain spray, a water-saving spray that delivers full showering satisfaction. The handy silicone SpeedClean nozzles means it is easy to keep free of dirt and limescale! The multilayered coating of durable GROHE StarLight chrome has a sparkle that lasts for years and the Inner WaterGuide prevents the surface of the shower from getting hot, protecting both your skin, and the lustrous chrome finish. The hand shower has a stylish white spray plate and a ShockProof silicone ring so it does not get damaged if dropped. The system comes with two Relexaflex shower hoses – both with smooth AntScratch surfaces for easy cleaning: The 1250 mm shower hose conncets to the valve and the 1500mm hose to the hand shower.
Key Features
horizontal 390 mm shower arm, adjustable before installation
change by diverter between hand shower, head shower or head shower Eco setting
head shower Tempesta 210 (26 408)
2 spray patterns (via diverter):
Rain, SmartRain
with ball joint
hand shower Tempesta 100 (27 852)
adjustable in height with gliding element
distance between diverter and upper bracket: 620 mm
shower hose Relexaflex 1500 mm (28 151)
shower hose Relexaflex 1250 mm (28 150)
flexible installation: connection to faucet / wall union for water supply with 1/2" thread of the 1250 mm shower hose
GROHE DreamSpray perfect spray pattern
GROHE Long-Life finish
SpeedClean anti-lime system
Inner WaterGuide for a longer life
minimum flow rate 7 l/min.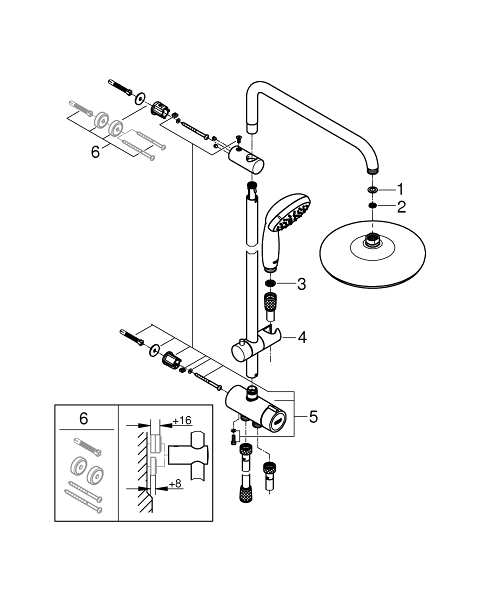 Pos.-nr.
Prod. description
Spare part-nr.
* Optional accessories

1

Fibre seal dia. Ø18.5 x Ø12 x 2

0138900M

2

Dirt strainer

48007000

3

Dirt strainer

0700200M

4

Glider

12140000

5

Diverter

48338000

6

Compensation disc

26496000*
Products and accessories for the installation