Step into your dream shower with the GROHE Euphoria XXL shower system
For a complete shower solution that offers pure indulgence, The GROHE Euphoria XXL shower system with single lever mixer features a precisely proportioned contemporary design packed with innovative features you'll love. Step under the soft and soothing spray of the Rainshower Allure 230mm head shower's PureRain Spray. Alongside this, the Euphoria Cube Stick hand shower features a classic 'normal' spray  - for both, the GROHE DreamSpray ensures an even flow from every nozzle, while the GROHE DropStop function prevents drips after you shut the shower off. An Inner WaterGuide keeps the shower's surfaces cool to the touch. Easy to clean, the SpeedClean silicone nozzles  can be brushed free of limescale with just your finger, and the dazzling GROHE Starlight chrome finish is a scratch-resistant surface that will stay sparkling for years to come.
Key Features
shower arm
projection 400 mm

exposed single-lever shower mixer with diverter

Rainshower 230 metal head shower (27 479)
spray pattern: Rain
with ball joint

hand shower Euphoria Cube Stick (27 698)

adjustable in height with gliding element

Silverflex shower hose 1750 mm (28 388)

GROHE SilkMove 35 mm ceramic cartridge
GROHE DreamSpray perfect spray pattern
GROHE Long-Life finish
SpeedClean anti-lime system
Inner WaterGuide for a longer life
TwistStop to prevent hose from twisting
suitable for instantaneous heaters from 18 kW/h
minimum flow rate 7 l/min.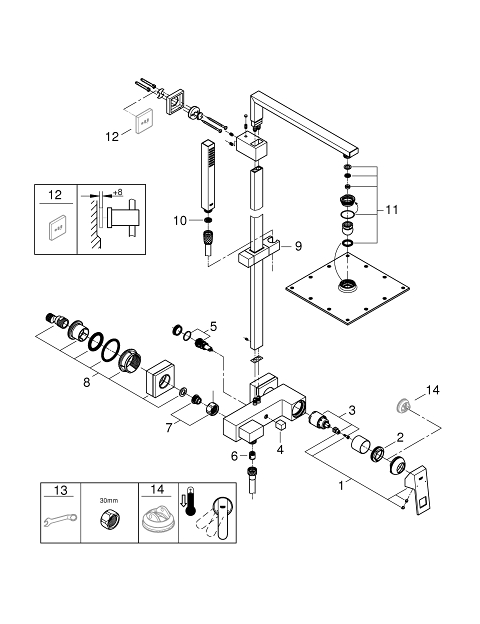 Pos.-nr.
Prod. description
Spare part-nr.
* Optional accessories

1

Lever

46782000

2

Screw coupling

46460000

3

Cartridge

46374000

4

Diverter knob

48128000

5

Diverter

48178000

6

Non-return valve

08565000

7

Screw connection 1/2"

45044000

8

S-union

47824000

9

Glider

48180000

10

Dirt strainer

0700200M

11

Inlet valve assembly

48471000

12

Compensation disc

27933000*

13

Special spanner

19377000*

14

Temperature limiter

46375000*
Products and accessories for the installation